Social simulation during Cascading Resource Scarcity: Science Diplomacy at the Intersection of Climate Change
Social simulation during Cascading Resource Scarcity: Science Diplomacy at the Intersection of Climate Change
On July 22, 2021, in cooperation with IIASA, National Research Council Canada, ISSP (uOttawa), and Mitacs, we ran an online workshop with our policy simulation exploring themes related to cascading climate impacts.
The simulation took place entirely online in a custom-made, interactive environment accessible in the browser. The theme of the event was metal scarcity, which is set to become a challenge in the planned energy transition from fossil fuels to renewables. Participants were mainly Canadian and included policy scientists, diplomats, as well as young researchers interested in climate policies.
For the simulation, players assumed the roles of various decision makers in the near future, each with their own stakes in the energy transition and, consequently, in the metal market. A few rounds of discussion followed over a set of policy propositions put up for a vote. Video stories were shown in between and news items throughout to challenge the participants' preconceptions and encourage them to rethink their positions. The vote could always be changed, which made the simulation even more dynamic. Afterward, there was a lively debriefing session. The participants discussed the events in the simulation, as well as their choices and perspectives.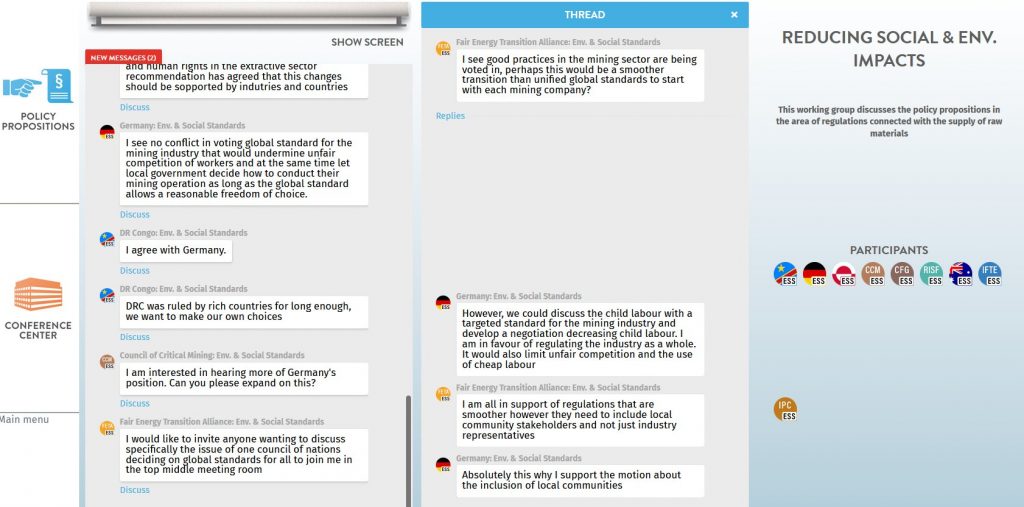 The workshop was part of the event Cascading Resource Scarcity: Science Diplomacy at the Intersection of Climate Change organized by Science & Policy Exchange – Dialogue sciences et politiques. On our side the team running the simulation consisted of Piotr Magnuszewski, the main facilitator; Łukasz Jarząbek, the main technical facilitaror; and support: Timothy Giger, Hubert Brychczyński, and Michalina Kułakowska.